to sod or not to sod…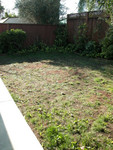 the backyard on the new house is in pretty bad shape. i've been contemplating the options. the guy at dale hardware suggested starting with weed and feed, just to see what it'll do. he said that there's typically lots of grass lying dormant under all the thistles and weeds. we'll see what it can do. i'll try that later this week.
i am somewhat obsessed with the thought of new sod, though. some random guy's re-sodding adventure turned out looking quite nice. lots of work, though.
i'll flip a coin, i guess.