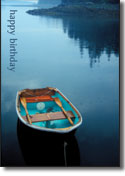 i got a catalog in the mail, on saturday. it was filled with professional greeting cards, open house postcards, and a pile of other crap targetted at realtors. this isn't suprising, as the previous owner of this house is a realtor.
curious, i flipped through it and ran across a "happy birthday" card with a serene photo of a dinghy. i'm 99% sure that this is a boat that my late grandfather, henry "grubby" douglass built. the picture in the catalog is quite small (~1″x1″) and the picture on their website is also tiny (127×176), but it really looks like the "grub tubs" that he built.
trying to find some better pictures, i located these , one of which shows at least one grub tub (foreground, white hull, blue interior, wood seats).
During these years, Harry Parker set the sailing standard towards which I strove. So it was with alacrity that I accepted his invitation to crew in the New England men's sailing championships. Harry, Grubby Douglass and Gardner Brown — the three best sailors I had ever known — had won the Maine championship, but the New England races were in boats that required a four man crew.

i also found a reference a two to my grandfather the most interesting of which is an excerpt from "multitudes: the unauthorized memoirs of sam smith"
the rec room in my grandparent's house in south freeport had trophies stashed in cabinets, but i can't remember what was engraved on them.
maybe i'll order a box of these horrible cards, just to see if it really is a grub tub. then again, maybe not