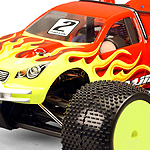 radrc turnbuckles and pushrods
lunsford racing products including pushrods, turnbuckles, hinge pins, rocker arm screws, pivot posts (for rockers), and pivot balls.
hardcore racing has Ti skidplates, rollbar/handles, bumpers, their 'mutant head', pillow balls, and rockers (in blue, green, silver or blue Ti).
appearantly, the standard t-maxx motor saver will fit, but given the clearance between flywheel and filter body, i'm not sure how comfortable i'd be with anything other than stock.
pro-line has introduced a 23mm heavy duty hex hub to accomodate their 40-series heavy duty velocity dish wheels. they've also finally produced extended body mounts to allow all those weirdos put the escalade body on their revos (huh!?). pro-lines most exciting news is the release of the crowd pleazer 2.0 body for the revo. they've also released one for the LST, MGT, TNX and another couple specifically for the hyper7 and mbx-5.
the big scoop here comes in the form of a random towerhobbies query. i'm sure others have seen it, i just haven't seen it reported. it would appear that trinity is releasing a .28 (for the revo?!)
MIP is coming out with their golden shock shafts, cvds (front, rear and center), clutchs, and a boost bottle for the revo.