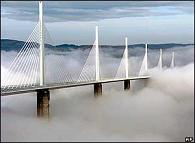 nicole and i have been planning a trip to europe for awhile. don't remember exactly how i ran across these pictures, but the millau bridge in france has just been added to the list of places to visit.
it's a pretty suspension bridge with the deck hanging off one side of the towers.
the tallest tower is 280 meters tall (918 feet) and the entire bridge span is 2.46 kilometers long (1.55 miles).
i liked one of the proposed oakland bay bridge east-span replacement designs and this bridge is 7 spans of the part that i liked.
(french and french-inhibited)