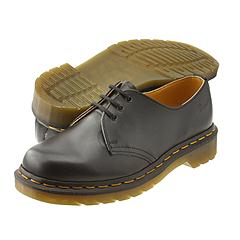 few weeks ago, i ordered three pairs of shoes from zappos.com. i got a pair of simples, asics running shoes, and a pair of doc marten's. ordered sunday night, received tuesday by ups.
Dr. Martens 1461 Series Black Smooth UK 14(US Mens15) M
Asics Top Seven™ Dolphin/White Men's 15 M
Simple Original Sneaker Sand 15 M
why is this a big deal? see those 15 M indications on the right? they're hard to come by in shoes that don't suck. if i wore hideous basketball shoes or tacky dress shoes, it'd be easy. this site has "search by size" right on the search page. couldn't ask for more. oh, except the `true to size' ratings with customer comments ("these are wide on me and i thought i had wide feet.") tonight, they have 1982 pairs in my size. ok, so i don't want track cleats, but still.
i'm always happy to find a company doing good business with good customer service. free shipping, 365-day free shipping return, and price matching discount for 110% of the difference (online or off).