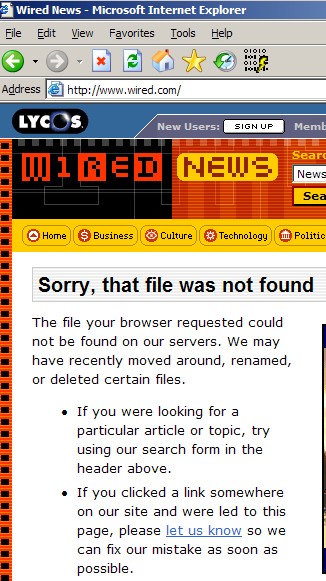 playing with sharpreader (rss aggregator, recommended by aditya), i left on of the default feeds: wired news. the feed was showing a "URL error" with extended text showing a 404. "hmm.. someone hosed the xml." hit http://www.wired.com/news_drop/netcenter/netcenter.rdf with a browser. yup, 404. up one level? 404. up another to /news_drop? 404. wow. up to the root? 404. maybe it's a CDN's fault. verified with the command line HEAD that ships with perl's LWP.
> HEAD http://www.wired.com/
404 Not Found
Connection: close
Date: Tue, 01 Feb 2005 15:50:42 GMT
Server: Apache
Content-Type: text/html
Client-Date: Tue, 01 Feb 2005 15:50:42 GMT
Client-Peer: 209.202.221.21:80
Client-Response-Num: 1
P3P: CP="IDC DSP COR CURa ADMa DEVa CUSa PSAa IVAa CONo OUR IND UNI STA"
i'm sure there are people madly watching cnet news for a sidebar on the outage.