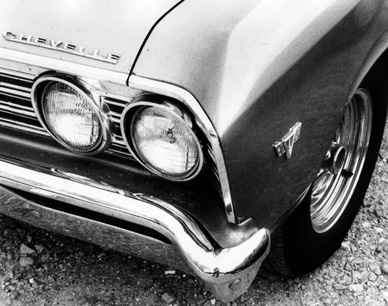 heard a band that i was pretty sure the dj referred to as "the moan", on a reasonably mainstream fm radio station, couple weeks ago. it immediately struck me as something i should be embarrassed to be so excited about. it sounded like a much more heavily produced version of "the donnas." female vox singing campy, trite and formulaic lyrics backed by driving guitars hitting stereotypical power chords; i'm sold.
google search for "the moan" hit a couple restaurants and some other mildly interesting links… but not this band. "da moan" (maybe they spell it dumb?) suggested the spelling "damone". damone.net, that's it! complete with a little streaming flash thing of the single i heard. looks like they have a forthcoming ep "out here all night" that, based on their bio, `rocks harder' than their first, "from the attic".
i pulled down some 192kbps mp3s of the first album and, while i should be embarassed to admit that i love it, i do. it's not artistically unique, talented (but not bad), and the production is a little heavy… but… i love it. i guess there's no accounting for taste.
the lyrics differ from the donnas' `we rock and you don't, so go away' and `i'm a horny teenage grrl' themes, but retain some of the jealous energy i guess i like:
who's that in your chevelle?
is she your girlfriend now?
does she know the hell that comes
and its automatic when your gone.
i feel the fall tonight.
deem me the one denied.
skies come too big too high,
from an understanding crowd to know.
feel bad vibe is coming.
feel bad vibe is coming.
i found the one you tell
keeps all your secrets held.
bonus points for the chorus containing a reference to a muscle car.